4th of July is finally here and I had mad plans that I'm not even feelin' anymore. Just not in the mood. A lot just pissed me off today. For example, no I still haven't gotten the blues (reference My Blue Shoes...Fri June 13th) back. I was determined to get them today because I had the perfect outfit planned in my head & that didn't happen ugh.

Had to go to work today but that was cool with me because time and a 1/2 always works. So on my way to work I saw the sweetest puppy on the train. I'm starting a Doggy album because I really want one but won't be able to get one until I graduate in a yr. Here goes the first doggy:


Doggy #1
Not really the type I'm looking for but nevertheless, he was still cute & he was sleeping awww...
Then.........I bumped into my gurl Opal in Old Navy> Haven't seen her in a really long time & guess what????
SHE'S PREGNANT!!!!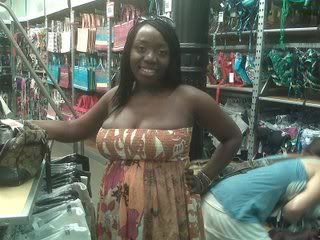 ahhhh mannn...doesn't she look niceeee..
After that it started raining in Soho, so I decided to catch rain drops in my mouth LOL. People were looking at me like, "look at the crazy black girl," but i didn't care because at the end of the day, it made me happy!!! :)