It's Tuesday, and just another day for me. I'm here back in Philadelphia dealing with "the happy family." I just can't be bothered. Just know before this week is out I'm spazzing on somebody.

Remember I said this would be "& I'm thankful" week, well here goes...

& I'm thankful for my mom!


I realize that may seem cliche, but it is what it is. Without my mother, seriously, I don't know where I would be. All my life she has been a single mother struggling to give me the things she NEVER had.
When we migrated from Guyana,SA, she could have left me there as so many parents do. But she wasn't having it. She took me with her. Through out all my schooling so far, she has been there encouraging me even though she didn't have the ed. I'm obtaining. If it wasn't for her, I wouldn't even be in college because I wouldn't be able to afford it. My mom has used the LAST of her savings for her dream house, to ensure I don't stay out of school not one semester.
Kisses for my mommmy!
There is never a time when I'm in trouble and can't count on my mommy for help. So ya'll better be thankful for her too, because if she wasn't here for me...there would be no A.M. Lol.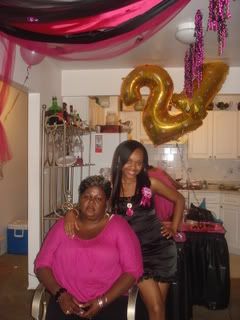 Luvs Her!!!