Today is another day, the beginning of the weekend. Weekends don't really speak to me anymore because I work everyday through them since I have classes during the week.

But anyhow, my bestie and I had lots of fun together, as usual, doing our regular nothing lol.


She came over Wed night. When I got home from school, in Philly, she was sitting in my living room waiting, was SOOOOOOOOOOO excited to see her. We just chilled for the rest of the evening and got ready for our Thursday.

Woke up Thursday morning and it won't stop raining. A little rain couldn't hold us down though, so we journeyed off to her therapy appointment for her back. It's crazy all the things she has to do there, but I'm happy cause she is beginning to feel better.

We then went to her job, she had to get some stuff done there, since her back is messed up and after ventured into the village for some Thai at Prem-on .It's a cool Thai Restaurant we discovered for my 20th Birthday.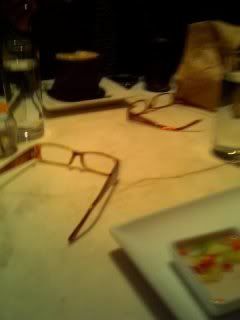 Pic came out blurry, but we're power nerds...gotta take our glasses off to eat.
After a Thai lunch in the rain, we ventured off to our play land- Toy R Us- to buy PINK UNO, but they were sold out. I'm obsessed with the Pink Board Games, already have Pink Monopoly. Gonna have a Pink Martini Party, you guys wanna come?
It was pretty much a rap after that, because it wouldn't stop raining. So we just came back to my house, ordered some Dominoes, watched What "Happens in Vegas...", and fell out.
Having a best friend Rocks!!!
P.S. I had mad pics to share but stupid ass Photobucket was acting up...AGAIN!