...How about you don't come back another day. yada yada yada. Yea I know we need rain to survive, but come on, not everyday. & that's exactly how it's been here in NY. Look at this madness: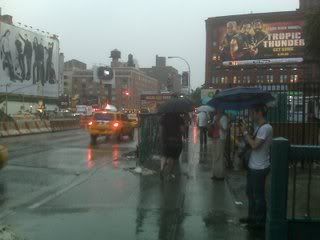 Water everywhere!!! Thank God I wore sneakers today but the water ruined my payday/shopping experience. Now I'm all stuck in the house on a Friday night. Lemme stop frontin'...I don't have a damn place to go to lol. BUT, Missy and I do have plans for tomorrow so the last thing we need is rain. Speaking of Missy, she kept me entertained at work today sending me emails. Read this one:
Wtf do they have me @ this whack ass place feeling like a security guard (no im not a security guard im a school safety ass agent)...bored ass hell read almost every paper that was printed today
-Olympics full of lies
-Traffic agent died her unborn baby lives
-macys got a poppin sale
-dude found $100 and gave it back to the owner
-saks gotta shoe sale
-sex of museum exhibits is about the sex of animals :-/ dunno bout that
But thought I should blog to my bestie I mean what else do I have to do do ? NUTTIN=/
then to top it off, she attaches this pic to the email:
My poor baby :/
Don't worry PYT, lots of fun for us this weekend :)
So after I went shopping. Got some sneakers, sandals, and a shirt dress, I decided to take my ass home because the rain just wouldn't stop. But I was also craving a chicken sandwich from Mickey D's. Went there & this is what I found:
HAHAHAHHA!!!! okay I know it's mean to laugh at people, but really what made him think it would be okay to wear that bright ass GREEN shirt. He straight up looked like he usta sing back up for Luther Vandross...R.I.P Luther.
After that, I had seen enough and just couldn't take anymore of the outside world so I'm home now & happy about it.
Hopefully your day was a lot dryer than mine :)