Okay, I'm becoming a blogging delinquent. I think it's primarily due to me being a bit lethargic. But things have just been moving by so quickly. Come on, it's really August 3rd already. Where has the summer went? In a few weeks it'll be time for me to start off my Sr. year in college...Woop Woop.

So here goes a mini synopsis of Tues through Sat.


Tueday
It was my bestie's little sister's Birtday, Mariah, she turned 12. So we took her to Dylans candy bar:
Mariah's candy box she made!!!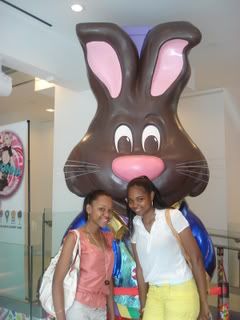 The bestie & I with the chocolate bunny
Bestie & the B-day girl, her sister.
Big ass kid in a candy store hehe.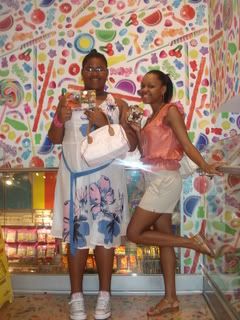 The B-day Girl & I
The stairs were actually made out of candy. Yum yum..Neva wanted to lick the ground more in my life LOL.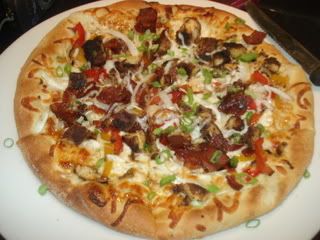 Then we went to California Pizza Kitchen..yum yum, the bestie bought her sister a Wii for her B-day & the day was a wrap :)
Wednesday
Went to work as usual then chilled with Mr. Perspective who I'm beginning to think isn't a perspective at all anymore. Oh welllzzz...
Thursday
Some more work where I was told my performance is slipping by our new boss of a week. Long ass story, won't even get into it. Just know, she needs to get like me.
Friday
IT'S PAY DAY BITCHES!!! that's always the best.
Saturday
What a long ass day. I went to work, bought some shoes: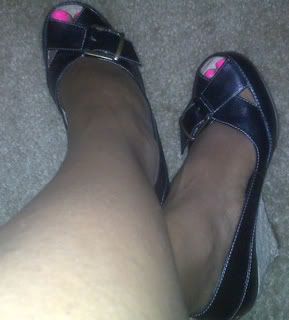 No place to wear them to really, my bestfriend has them so I was like why not. Needed to buy something, you know retail therapy :)
Then...I came home and got ready for my grandpa's B-day party/mother's engagement party. Another long story don't ask.
I'll let the pictures do the talking:
Myself, gramps, and his wife.
Kisses for my mommy
Of course the bestie made it :)
My grandpa & I, ♥ him!
Me rockin his hat...hot righhhhtt?hehe
so I guess in short, the week was a REALLY GOOD ONE!
How have you been? :)